Painting with Goats
FunWithGoats.com does Painting with Goats at several local Breweries, Wineries, Farms, Festivals and Libraries.  
FunWithGoats.com can also bring the Painting with Goats experience to your Party, Home, Work or Art Studio!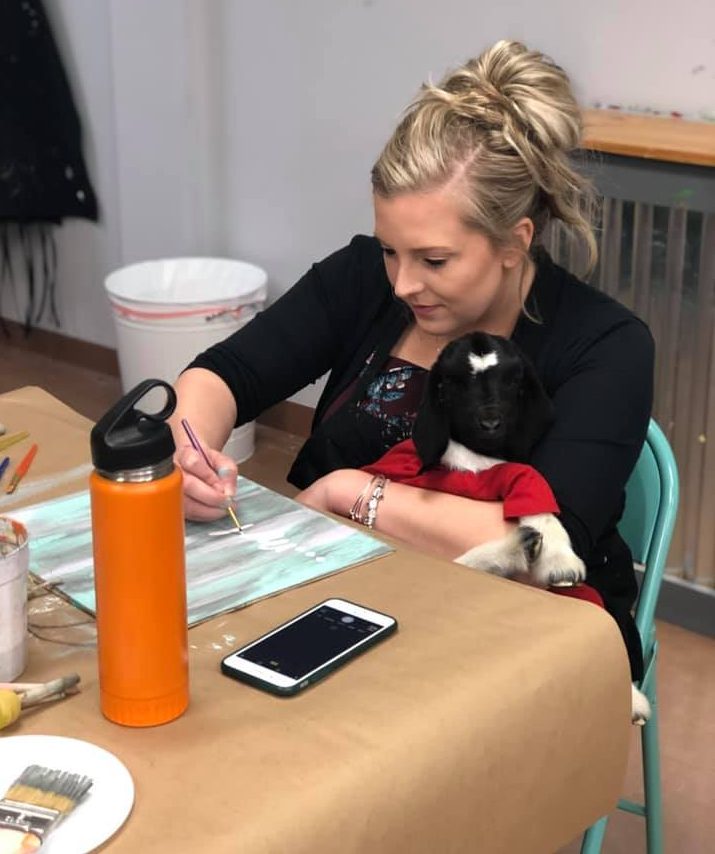 What is Painting with Goats?
Let's be clear….the goats will not be painting….you will be painting WITH GOATS! This means that you will have tons of extremely adorable baby goats around you while you paint. You will be allowed to pet them, cuddle them, snuggle them, love them, feed them, and use them as inspiration for your painted masterpiece!
All ages and abilities are welcome!
All supplies are included and there are several mediums to paint on such as: Canvas, Wooden Goat shape door hangings, Glass beer mugs, Glass wine glasses, and wooden Goat shaped Christmas Ornaments.
Come to one of our Scheduled Painting with Goats events or host your own Painting with Goats party.
Email us for Private Parties and we will send you party package pricing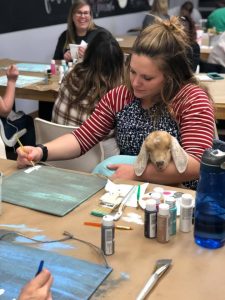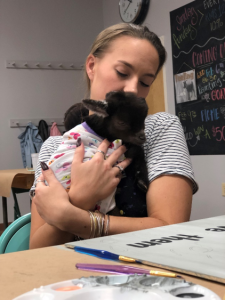 Had an amazing time painting with the goats today! Ev3ryone was great. The goats are fun and it's very relaxing to paint, take a break to hold or feed one of the goats. Great way to spend a Saturday morning after a stressful week. Will absolutely do more events with them! 100% recommend, very therapeutic!!
Tonya P.
Had a good time Painting with Goats! Host was a delight. Highly recommend
Sean W.
My wife took me to the Painting with Goats event. I did know what to expect, but I was happy to be at the brewery so I could drink beer. I ended up having so much fun! I had a baby goat fall asleep in my lap as I painted. The owner of the business answered all my goat questions and at the end I got to bottle feed a goat too.
Johnathan S.
So much fun, we have now done it twice! Great times and many laughs. Looking forward to watching this experience grow for this sweet family!
Meg L.
Had a great time! I will do it again soon
Julie W.
Awesome experience! Amazing staff! Super cute muses!
Tiana C.
We did a Painting with Goats Birthday Party for my daughter's 12th birthday. The staff was great. They helped all the girls with whatever they needed. The girls had a AWESOME time and fell in love with all the baby goats. My daughter is already talking about doing it again next year for her 13th birthday.
Stephanie R.
***Email us for Private Party Packages Pricing and available dates***